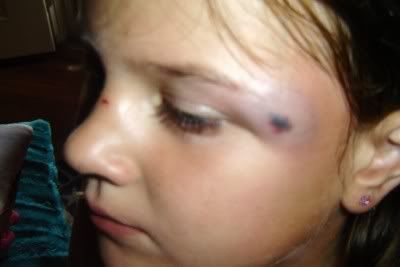 Where to start. Soo much has happened since the last time I really blogged. Both knit and family related. Humm, ok well my daughter gave herself a black eye while playing in her bathroom. She really did a number on it. Her eye is looking better now though.
I have been knitting like crazy. Getting my sp's bag done, finishing my best friends sockies for her birthday. I have also been buying knitting stuff like crazy too. While shopping for my sp, I find things that I like grab them too! I think that is how it always works!! Swaps are so much fun, they feel like x-mas!! I really hope that my pal like all her stuff. Speaking of knitting, I recently lead a friend to the dark side!! WOOHOO She is working on her first scarf. I figured that would be the easiest thing to start with. She is doing really well. It is almost done and I will teach her how to bind-off. Maybe some pics of her knitting later. OH I have to tell you!! I was knitting outside at my moms house and the kids were all nakie playing in the water. Well my nephew who is 1 1/2, was standing by me taking a drink. He was awful quiet so I looked down at him and he was peeing into my knitting bag!! I was so mad, I scared him and he ran off. Good thing all of my stuff was either out of the bag or in plastic baggies. So after a good spraying with lysol and a long airing out, my bag had recovered! Note: No knitting tools or Yarn were harmed in this matter!!
More on my kids now. My daughter thinks that hair cutting is a sport. She has cut her hair and my sons hair TWICE in two weeks. We had to finally buzz my sons hair because his sister cut it to the scalp in 5 places! Nice huh. Kinzy is also playing T-Ball again this year. She is really doing well. I would hope so after playing the last 2 years. She played catcher last night and stopped every ball thrown to her. Her batting needs a little work but other than that she is doing great! Ty has graduated to a big bike with training wheels!! He thinks he is so big now that he can keep up with his sister. We have crashed a few times, but no major boo-boos.
Well, I think I have updated all I can update for now. More hijinks to come I am sure! Keep knitting peeps! Tasha :o)